Our first aid kit meets OSHA requirements to have one available in the work place at all times. This comprehensive kit includes a first aid treatment manual, sterile dressings and bandages, adhesive tape, burn cream, antiseptic ointment and other basic first aid supplies. Prompt care for minor injuries can prevent them from turning into larger problems.
Volk Protective Products offers a special foodservice First Aid Kit that includes everything you need to treat minor injuries such as small cuts, abrasions and minor burns. We encourage you to ensure representatives on staff are trained in administering the supplies in our first aid kid and in taking care of minor injuries using this kit. Always seek professional medical help immediately for serious injuries, and dial 9-1-1 in case of any emergency.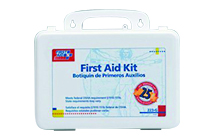 First Aid Kit, FA9301-25P
Plastic case with gasket, 9-1/6" x 6-5/16" x 2-3/8". Kits have bilingual (English/Spanish) labels.
100
1" x 3" adhesive plastic bandages
3
Knuckle fabric bandages
3
Large fabric fingertip bandages
1
3" Conforming gauze roll bandage
1
40" Triangular sling/bandages with two safety pins
6
3" x 3" Gauze dressing pads
42
Antiseptic cleansing wipes
1 bx
First aid/burn cream packs (0.9g each, 10/bx)
1
4" x 5" Instant cold compress
1
1/2" x 10 yd. tape roll
1
Pair nickel plated scissors (4-1/2")
1
4" Plastic tweezers (one time use)
2
Pair exam quality gloves and 1 first aid guide