Work Safe® Terrycloth Bakers Pads and Mitts
November 06 2014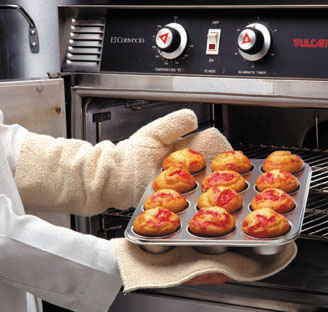 Work Safe® Terrycloth Bakers Pads and Mitts
Volk Protective Products' Work Safe® Terrycloth Bakers Pads and Mitts Provide Natural Protection and Increased Value.

Work Safe® terrycloth bakers from Volk Protective Products provide heat, abrasion and cut protection. Acting as a natural insulator, terrycloth fabric provides the most effective protection from 200º to 500º F. Valued particularly for their flexibility, terrycloth will stand up to repeated launderings with minimal shrinkage. Ideal for handling hot pans, pots, trays, ovens, and instruments.

The high-loop structure of the thick cotton fabric acts as a natural insulator, creating pockets of air that trap heat. This natural protection, allows for safety without bulk. Terrycloth also allows moisture to pass through it, keeping hands drier, and absorb oil, improving the gloves' grip.

Work Safe® brand bakers mitts and pads provide protection up to 460°F. Quality construction allows for repeated laundering. The 17" long mitt is lined and features a wing thumb for wearer comfort.

Volk Protective Products offers protective gloves, glove dispensers and other safety products for the foodservice industry. Volk is an American Institute of Baking (AIB) approved operation and is ISO/9002 Certified. The company excels at product advancement and on-time delivery to adhere to the corporate motto: We are in business with you.

For more information, please contact Volk Protective Products, 3287 Southwest Blvd., Grove City, Ohio 43123. Toll free: 800-856-2852. Fax: 614-409-7236. www.volkprotectiveproducts.com.