Cut-Safe™ Gloves
November 06 2014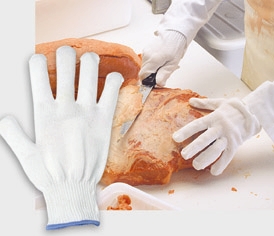 Cut-Safe™ gloves from Volk Protective Products offer superior wireless cut resistance.
To help companies avoid costly hand injuries (the average cost of a laceration incident is $6,605, Volk Protective Products offers Cut-Safe™ brand gloves. These Spectra® knit, wireless cut protection gloves are lightweight and, because they are bleachable and offer superior launderability, they offer foodservice and grocery operations an exceptional value.
Hand and finger injuries account for 18% of all disabling injuries, according to the National Safety Council. Every day, employees in the food, grocery and meat industries handle slicers, knives, trash and other sharp-edged objects, putting them at high risk for such incidents.

Available in Heavy Weight and Medium Weight options, Cut-Safe gloves work in a wide variety of applications. The highly engineered Spectra® composite fiber provides tactile sensitivity, durability and increased cut and abrasion resistance.

Volk Protective Products offers protective gloves, glove dispensers and other safety products for the foodservice industry. Volk is an American Institute of Baking (AIB) approved operation and is ISO/9002 Certified. The company excels at product advancement and on-time delivery to adhere to the corporate motto: We are in business with you.

For more information, please contact Volk Protective Products, 3287 Southwest Blvd., Grove City, Ohio 43123. Toll free: 800-856-2852. Fax: 614-409-7236. www.volkprotectiveproducts.com.