Clean Hand™ Nitrile Gloves
November 06 2016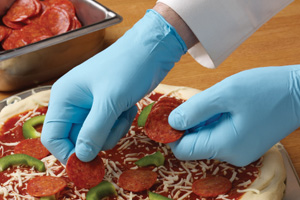 Volk Protective Products' Clean Hand™ Nitrile Gloves Offer More Durable Protection than Latex of Same Thickness.

Now available in Dispense Safe™ system -- helps increase employee compliance.
Volk Protective Products' Clean Hand™ brand nitrile gloves are 5 mil thick, as opposed to the 4 mil thickness common to single-use gloves. Nitrile gloves provide enhanced dexterity and sense of touch when compared to latex and vinyl. Nitrile is also three times more puncture resistance than latex of the same thickness, providing foodservice workers with a more reliable barrier.

Volk's nitrile gloves are now available in the company's Dispense Safe™ glove dispensing system. The patented Dispense Safe dispensers release just one glove per pull, ensure that glove boxes remain off countertops, and, because dispensers can be mounted near wash stations and prep areas, promote completion of the hygiene protocol.

The gloves comply with U.S. 21CFR for use in both food and pharmaceutical applications. Volk nitrile gloves feature a textured grip and rolled cuff, are blue in color, 9-1/2" long and are available powdered and powder-free. A variety of sizes are available.

Volk Protective Products offers protective gloves, glove dispensers and other safety products for the foodservice industry. Volk is an American Institute of Baking (AIB) approved operation and is ISO/9002 Certified. The company excels at product advancement and on-time delivery to adhere to the corporate motto: We are in business with you.

For more information, please contact Volk Protective Products, 3287 Southwest Blvd., Grove City, Ohio 43123. Toll free: 800-856-2852. Fax: 614-409-7236. www.volkprotectiveproducts.com.